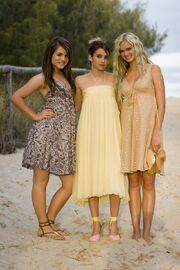 The actors and actresses in the film
Aquamarine
.
Sara Paxton plays the mermaid Aquamarine. Sara Paxton (born April 25, 1988) is an American actress, model and singer. She grew up in California and began acting at an early age, appearing in many minor roles in both films and television shows, before coming to wider renown in 2004, after playing the title role in the series Darcy's Wild Life and Sarah Borden in Summerland. Paxton has also starred in the films Sleepover, Return to Halloweentown, The Last House on the Left, Sydney White and Superhero Movie.
Emma Roberts plays Claire. Emma Rose Roberts (born February 10, 1991) is an American actress, singer-songwriter, and designer. She is the daughter of actor Eric Roberts and the niece of actresses Julia Roberts and Lisa Roberts Gillan. Roberts became known for her role as Addie Singer in the Nickelodeon television series Unfabulous. She released her debut album, which also served as the show's soundtrack Unfabulous and More. Roberts then pursued a solo singing career by recording two songs for the soundtracks of Ice Princess and Aquamarine. Roberts then began to focus on her acting career, the title character in the 2007 film Nancy Drew, and her voice-over debut in The Flight Before Christmas.
In 2008 and 2009 Roberts was cast in coming-of-age movies, the first being Wild Child, this was followed by Memoirs of a Teenage Amnesiac and Lymelife. Roberts appeared in the 2009 family film Hotel for Dogs and The Winning Season. In 2010, she appeared in Valentine's Day, which also starred Julia Roberts. Later the same year, she also had a leading role in It's Kind of a Funny Story. She is now starring in the popular horror series sequel, Scream 4, along with Neve Campbell, Courtney Cox Arquette and David Arquette as one of the main characters.
JoJo played Hailey Rogers. Joanna Noëlle Blagden Levesque (born December 20, 1990), professionally known as JoJo, is an American recording artist and actress. After competing on the television show, America's Most Talented Kids, she was noticed by record producer Vincent Herbert who asked her to audition for Blackground Records. JoJo has also played the film RV.
Jake McDorman played Raymond. Jake McDorman (born July 8, 1986) is an American film and television actor who is best known for playing Evan Chambers on the ABC Family TV Series Greek. He currently plays the main protagonist in a show called, Limitless.